With the growing demand for launching new satellite constellations and the expansion of New Space projects, it is becoming increasingly important to select the right components for these missions. These components need to be not only robust and reliable to endure the harsh environment of launch and orbit, but also cost-effective to facilitate building satellites in volume.
InnaLabs® offers a solution to this problem: CVG New Space, a tried and tested Coriolis Vibratory Gyroscope with over 2.5M hours in space with no failure or degradation of performance.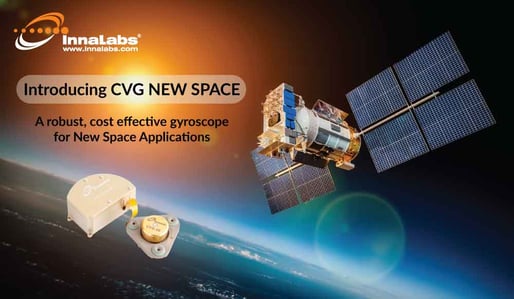 The core technology used in our CVG New Space is InnaLabs® patented and proven Coriolis Vibratory Gyroscopes Technology (CVG) which is inherently stable, impervious to ageing effects, naturally immune to vibrations, shocks while also maintaining low power consumption.
Designed to provide inertial angular rate measurement of rotations (about 1 reference axis), our CVG New Space is a market-leading inertial sensor with over 2.5M hours of space flight heritage to prove the reliability and capability of our gyroscope, no matter the environment.


What makes CVG New Space so unique? Its features.
CVG New Space has a simple mechanical design, very high MTBF, delivers less than 10°/hr bias stability over the full temperature range, has best in class noise performance, and comes at an attractive price point, making it an ideal candidate for new space applications.
We at InnaLabs® are committed to client satisfaction and understand, that no two projects are the same. Therefore, CVG New Space is available in 1 or 2 Axis configurations with analogue or digital output and the added flexibility of custom solutions provided by our dedicated and experienced engineering team to meet your project's requirements.


Ready to learn more about this product?
Explore CVG New Space in more detail or reach out to our sales team to discuss how InnaLabs® products would fit your specific needs.