Minister Halligan congratulates Dublin company on contract to develop a Rate Measurement Unit for Scientific Missions and Commercial Satellites
Dublin, Ireland. – April 24, 2017 – InnaLabs® today is delighted to announce that it has successfully tendered for a contract from the European Space Agency (ESA) to develop a space-qualified Rate Measurement Unit (RMU) that will be used for satellite Attitude and Orbit Control Subsystems (AOCS) in a range of future space missions as well as the in the commercial space market.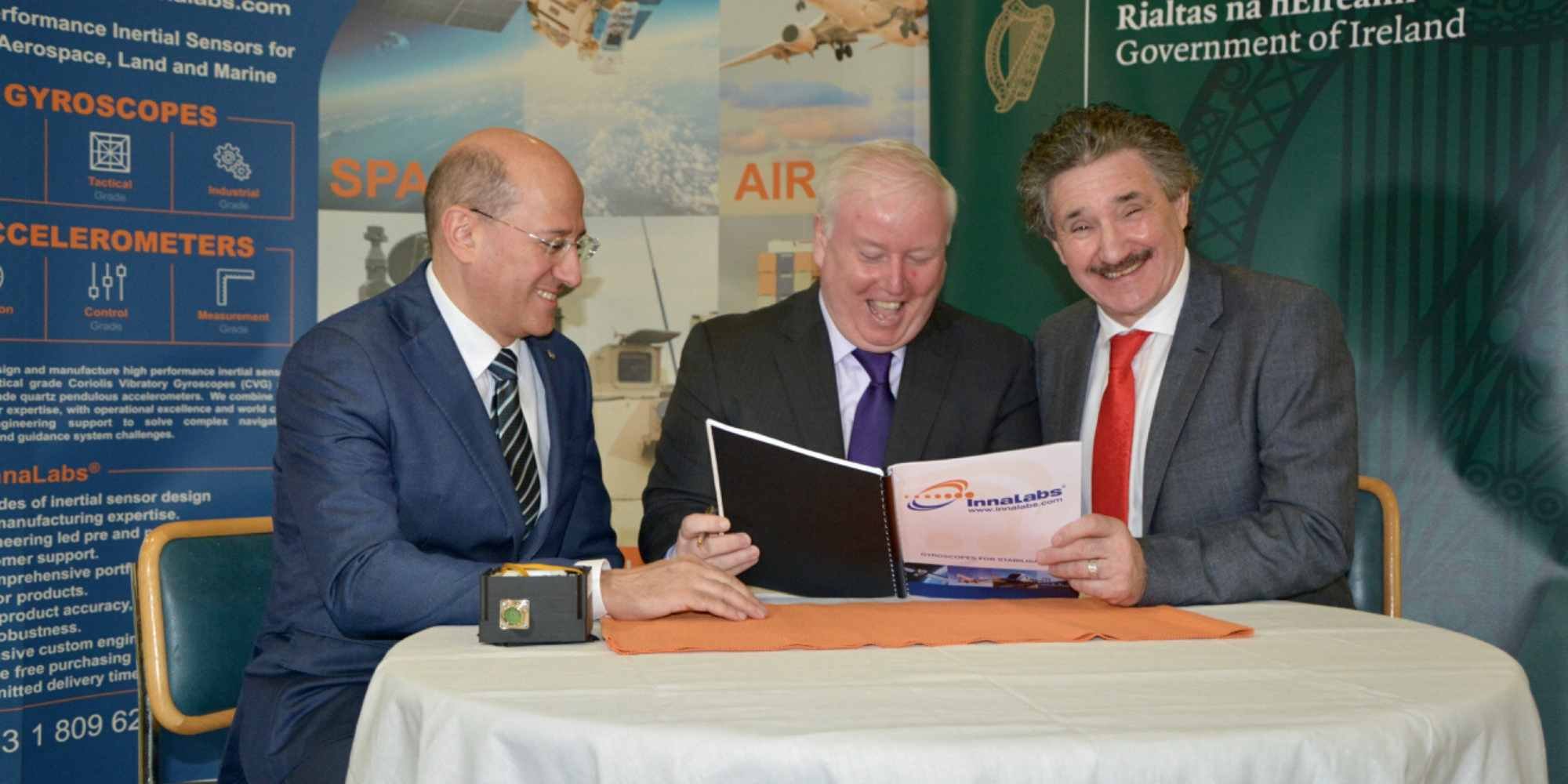 Jose Beitia, CTO at InnaLabs®, John O'Leary, CEO at InnaLabs® and Minister John Halligan, Ireland Minister for Training, Skills & Innovation
Speaking at the Enterprise Ireland trade visit to the European Space Agency Technology Centre (ESTEC) in Noordwijk, John Halligan T.D., Ireland's Minister for Training, Skills & Innovation congratulated the company on its success in securing the ESA contract stating that "the Irish Government's investment in Research and Innovation has supported the emergence of highly innovative start-ups with technology that can be used in the most demanding of space systems. Enbio, InnaLabs and PilotPhotonics are the latest Irish companies to have their technical expertise validated by securing contracts from the European Space Agency. This is part of an ongoing rapid expansion of Irish companies engaging with ESA to develop and qualify technologies for the growing space market. A number of these technologies are also successfully being commercialised in a range of non-space applications including healthcare, automotive and aerospace".
The InnaLabs® RMU will be primarily used for coarse attitude control and will provide gyroscopic measurement to the Attitude and Orbit Control System (AOCS) while in safe mode. Regaining attitude control, if lost, is of the highest priority because it is necessary to maintain thermal balance and proper illumination of the solar panels. The initial phase of the contract is valued at €980,000 which is co-funded by ESA. Delivery of flight models RMU is scheduled for 2020.
"We are very proud to partner with the European Space Agency as a valued supplier of high -quality, Rad-hard, low cost 1◦ /hr gyroscopic sensors for future ESA missions," said Jose Beitia, Chief Technical Officer. "InnaLabs® demonstrated its space heritage with recent successes in delivering specific cost to performance ratios for low earth orbit applications with twenty gyros aboard five small-satellites launched in 2016, with further launches scheduled in 2017 which led to our selection on this significant development programme. This contract will enhance the development of the growing space team within InnaLabs® and we look forward to future opportunities in the expanding commercial space sector."
The RMU is based on InnaLabs® proven and qualified COTS (Commercial-Off-The-Shelf) Coriolis Vibratory Gyroscope (CVG) Technology. which offers a genuine non -ITAR and low-cost alternative to traditional gyroscope space solutions
Ireland's industrial and research participation in the programmes of the European Space Agency (ESA) is coordinated by Enterprise Ireland in collaboration with the Irish government Department of Jobs, Enterprise and Innovation.
Gearóid Mooney, Research & Innovation Manager, Enterprise Ireland, said; "This high-level trade visit to ESTEC provides an opportunity for Enterprise Ireland to help further build relationship between Irish companies and ESA, with a specific focus on new entrant companies and as a means to progress Irish industrial involvement in upcoming Space mission procurement opportunities. Supporting our client companies to identify new markets for their products and services is part of Enterprise Ireland's strategy to enable our clients to build scale and expand global reach".